Park same sex Denver engagement pictures
When you're preparing for a wedding, the engagement photo shoot is one of those things that are exciting to plan out. As we can all agree on, engagements are a lot less stressful than the actual wedding. On a typical engagement photo shoot, you will just enjoy the day and spend as many hours as you want. Just let your engagement photographers capture every moment you spend with your fiancé and you will have an engagement photo session worth remembering.
In this photo shoot, you can either follow them or not, hire a makeup artist or do your makeup alone, buy new beautiful clothes or use the old ones you have. There are not many rules to follow here, unlike on the day of your wedding.
Looking at this fun-filled image of the couple, they seem to follow only one rule for their engagement photo shoot, and that is to have loads of fun. As we can see in this picture, one of them rides a bike while the other, a skateboard. They are having so much fun, judging from the smiles on their faces. They are free to play for as long as they want under the shade of these beautiful trees. Their obvious happiness is the perfect element for their engagement photos.
The story of the couple ... Same Sex Engagement Photography Denver: Recently, Frances Photography has had the honor of photographing two same sex couples, for their engagement photos. I had so much fun and absolutely love the way the photos turned out from each session!
Jenna & Zabeth:
Jenna is a Wedding and Event Planner with the dream team, my dear friends over at Table 6 Productions. She and Zabeth were married in Mexico in May 201. Their same sex engagement session was seriously the most romantic, playful, and fun engagement session I've had in a long time. I took Jenna and Zabeth to a neighborhood park in Arvada, where I was able to capture the playful and fun side of the couple as Jenna road her bike and Zabeth tagged along, on her skateboard. As the sun began to set, I then took the couple to one of my favorite photography spots at Standley Lake in Arvada, CO. Can you say, "photo op!" The only word to describe the setting at Standley Lake, especially at sunset, is "magical." And that's just the word to describe this couple, their love for each other, and their engagement photos. The couple even got to put their toes in the sand, a little preview of what's to come at their destination wedding next spring! It was a gorgeous night at Standley Lake and the natural sunlight made for absolutely beautiful and romantic photos. Check out a peek of my favorite photos from the session: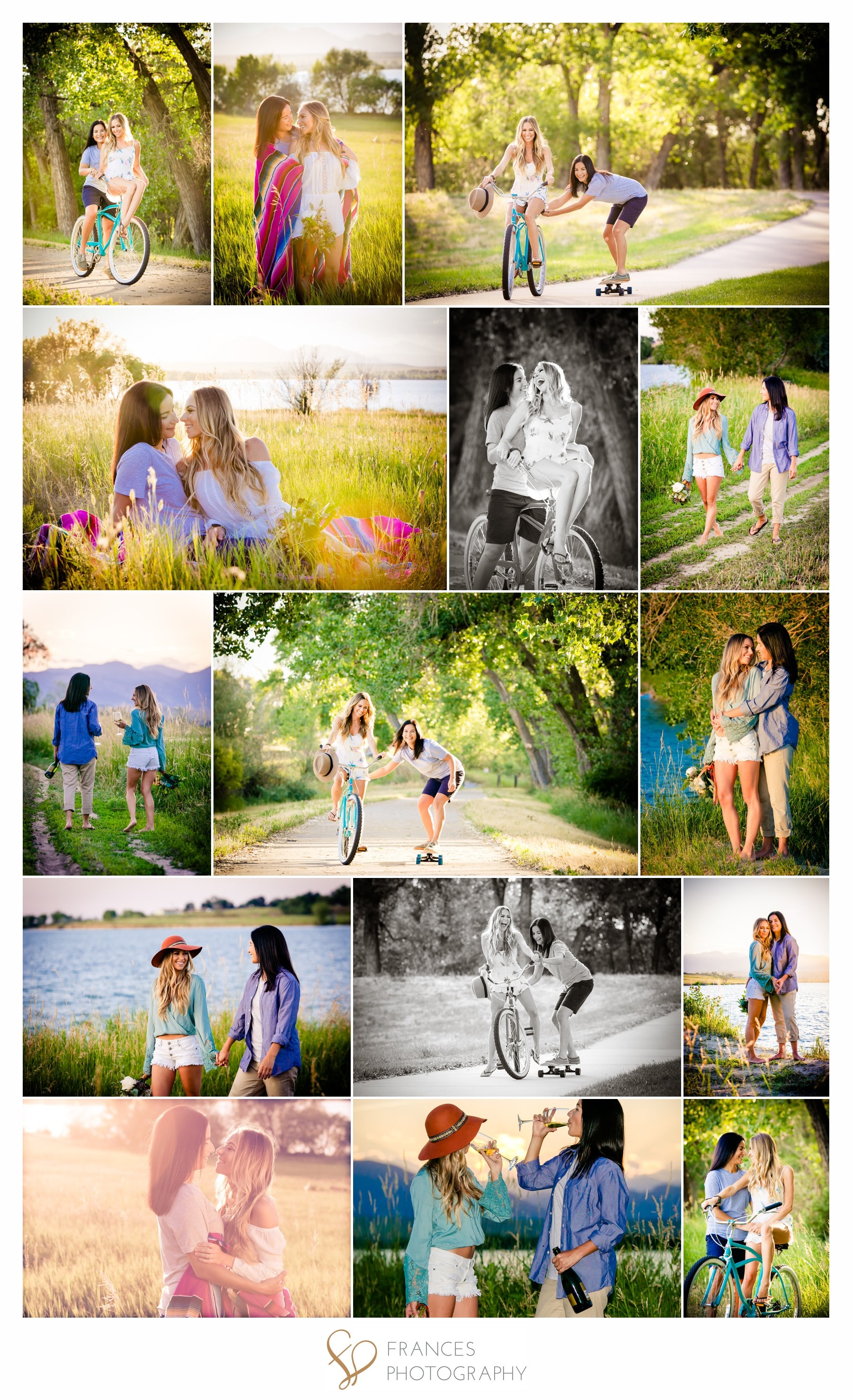 Location: Denver, Colorado .
Copyright © Frances Photography 2018