Park same sex Denver engagement pictures
You stole my heart that summer's day. Riding down the path veiled by breeze-kissed trees, your golden hair a silken cascade, your smile snared me like a gossamer butterfly net. Were you a vision from fairy tale? A beautiful princess come down from her castle? An image from my deepest fantasies? Time slowed, each second an eternity as I gazed at you. I caught a wisp of your perfume as you passed, a floral caress that lingered in the air. And as you turned to glance at me, I felt my heart melt like butter in the sun. Captured by the Colorado engagement photographer, that moment was a treasure that lived in my heart. I could barely believe your smile was meant for me, your embrace a gift from heaven. When you whisper my name I hear the serenade of a nightingale. Could this be the voice of an angel? Could I be so blessed to have found you from all the others in the world? Yet you stopped and saw only me. Your eyes… how can I ever forget… like the deepest ocean, the bluest sky. And now we ride the path together, not two hearts, but one…
Denver engagement photograph musings by Diana Kemp (http://www.dianakemp.com/)
The story of the couple ... Same Sex Engagement Photography Denver: Recently, Frances Photography has had the honor of photographing two same sex couples, for their engagement photos. I had so much fun and absolutely love the way the photos turned out from each session!
Jenna & Zabeth:
Jenna is a Wedding and Event Planner with the dream team, my dear friends over at Table 6 Productions. She and Zabeth were married in Mexico in May 201. Their same sex engagement session was seriously the most romantic, playful, and fun engagement session I've had in a long time. I took Jenna and Zabeth to a neighborhood park in Arvada, where I was able to capture the playful and fun side of the couple as Jenna road her bike and Zabeth tagged along, on her skateboard. As the sun began to set, I then took the couple to one of my favorite photography spots at Standley Lake in Arvada, CO. Can you say, "photo op!" The only word to describe the setting at Standley Lake, especially at sunset, is "magical." And that's just the word to describe this couple, their love for each other, and their engagement photos. The couple even got to put their toes in the sand, a little preview of what's to come at their destination wedding next spring! It was a gorgeous night at Standley Lake and the natural sunlight made for absolutely beautiful and romantic photos. Check out a peek of my favorite photos from the session: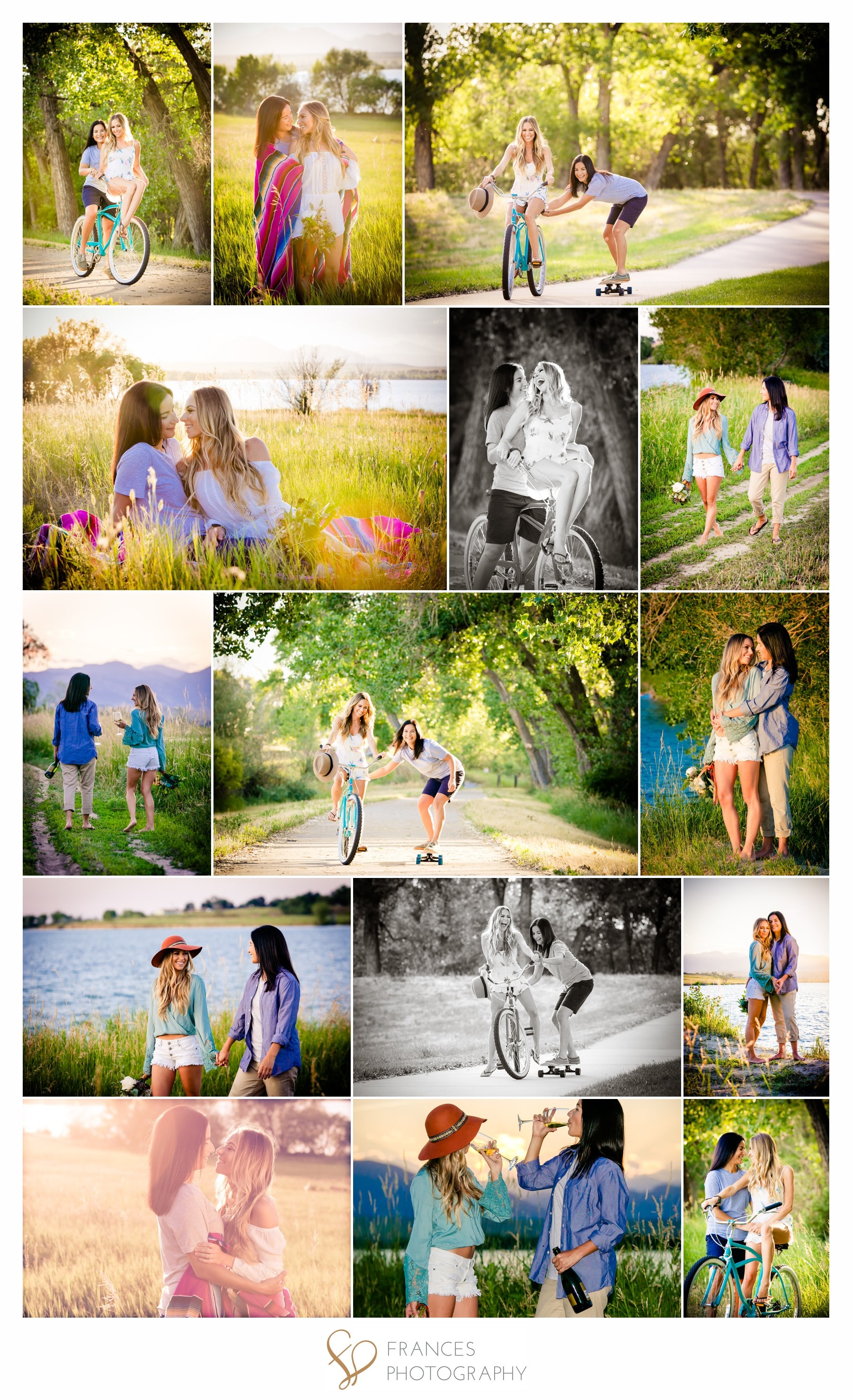 Location: Denver, Colorado .
Copyright © Frances Photography 2018