Beautiful gay couple Denver engagement photography
Thoughts on the image:
In life, a couple will have to experience so many different experiences. It can be their choice of faith, political affiliation, or even their simplest musical preferences, among others. Whatever these life experiences are, the love that united them in the first place should always be stronger than what challenges these two people.
And before you get hitched, you need to have your engagement session done by a professional photographer. The photos that will be produced by this special day will serve as an everlasting reminder of your love and why you decided to get married in the first place.Just keep all of these things in mind, relax, and have fun with this day. The outcome will surely surprise you in more ways than one.
The bigger story of the couple and their relationship: Same sex Engagement Photography Denver: Recently, Frances Photography has had the honor of photographing two same sex couples, for their engagement photos. I had so much fun and absolutely love the way the photos turned out from each session!
Jenna & Zabeth:
Jenna is a Wedding and Event Planner with the dream team, my dear friends over at Table 6 Productions. She and Zabeth were married in Mexico in May 201. Their same sex engagement session was seriously the most romantic, playful, and fun engagement session I've had in a long time. I took Jenna and Zabeth to a neighborhood park in Arvada, where I was able to capture the playful and fun side of the couple as Jenna road her bike and Zabeth tagged along, on her skateboard. As the sun began to set, I then took the couple to one of my favorite photography spots at Standley Lake in Arvada, CO. Can you say, "photo op!" The only word to describe the setting at Standley Lake, especially at sunset, is "magical." And that's just the word to describe this couple, their love for each other, and their engagement photos. The couple even got to put their toes in the sand, a little preview of what's to come at their destination wedding next spring! It was a gorgeous night at Standley Lake and the natural sunlight made for absolutely beautiful and romantic photos. Check out a peek of my favorite photos from the session: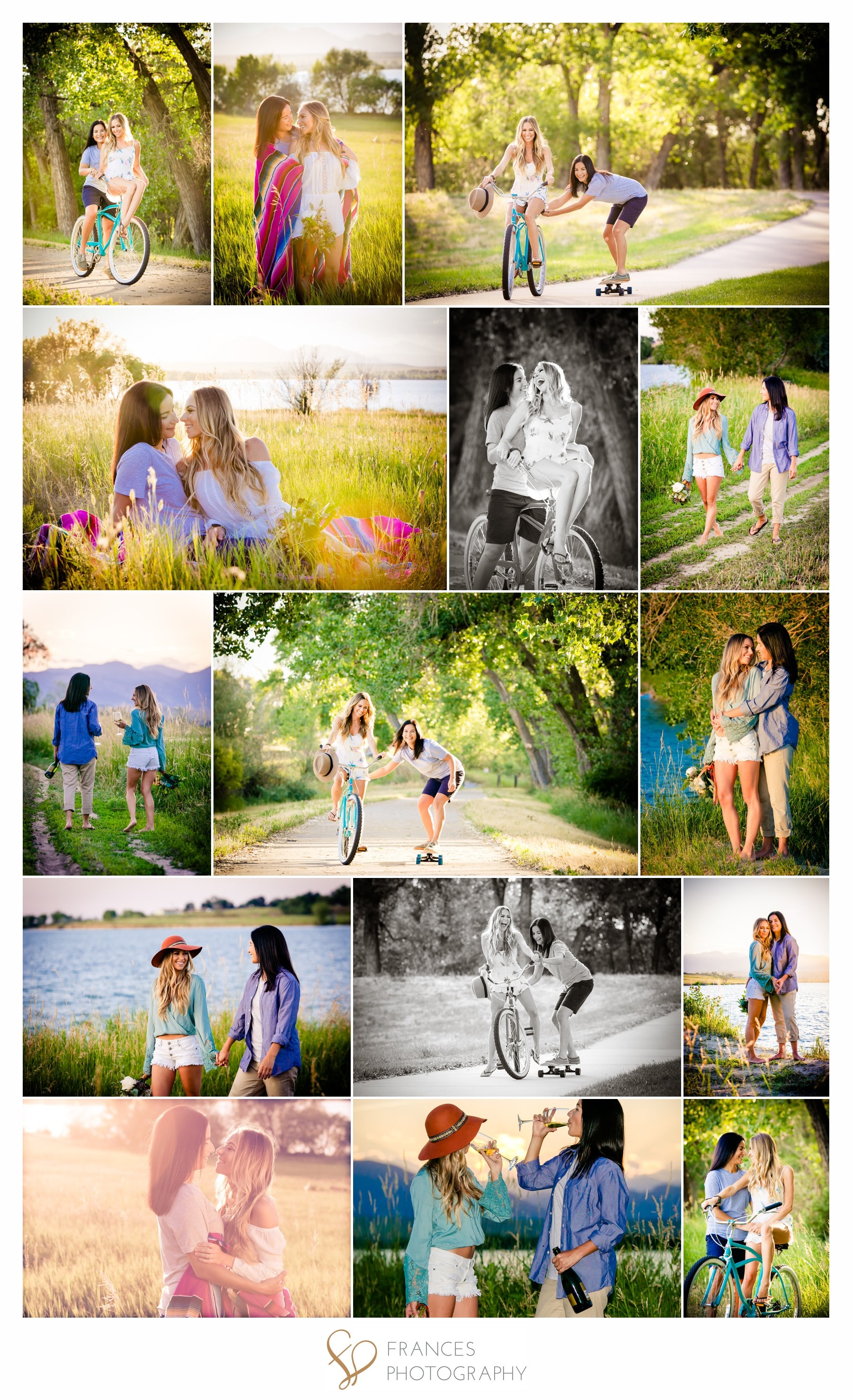 Location: Denver, Colorado .

Keywords: LGBTQ wedding photography (6).

Copyright © Frances Photography 2023