Same sex marriage Denver engagement photography
The description of the image ... love in any form and gender has never been fully accepted as it is today. This sweet and vibrant engagement image of these two ladies is one such evidence that this kind of love is alive and accepted in our generation.
There are some key elements in an engagement photo that Colorado engagement photographers focus on in order to come up with a beautiful picture. Some of them are the elements of lighting, composition, poses, and styling, both of the couple and the place where the engagement session will be done.
Looking at the breathtaking engagement photo of this young couple, all these four mentioned elements were perfected by the artist behind this image.In terms of lighting, nothing can beat the natural light or the light coming from the sun. It gives the skin a different glow that makes the subject really look radiant.
As for the composition, the background, foreground, and the location of the image itself play vital roles. This photo shows the artist's skill in composition because she placed the couple right in the middle of the captivating greenery around them. They also posed so naturally, almost kissing each other, making this a sweet engagement photo. These beautiful ladies are not hard to style at all and the place is already dressed up wonderfully for an engagement session.
The story of the bigger picture ... Same-sex engagement photography Denver: Recently, Frances Photography has had the honor of photographing two same-sex couples, for their engagement photos. I had so much fun and absolutely love the way the photos turned out from each session!
Jenna & Zabeth:
Jenna is a Wedding and Event Planner with the dream team, my dear friends over at Table 6 Productions. She and Zabeth were married in Mexico in May 201. Their same-sex engagement session was seriously the most romantic, playful, and fun engagement session I've had in a long time. I took Jenna and Zabeth to a neighborhood park in Arvada, where I was able to capture the playful and fun side of the couple as Jenna road her bike and Zabeth tagged along, on her skateboard. As the sun began to set, I then took the couple to one of my favorite photography spots at Standley Lake in Arvada, CO. Can you say, "photo op!" The only word to describe the setting at Standley Lake, especially at sunset, is "magical." And that's just the word to describe this couple, their love for each other, and their engagement photos. The couple even got to put their toes in the sand, a little preview of what's to come at their destination wedding next spring! It was a gorgeous night at Standley Lake and the natural sunlight made for absolutely beautiful and romantic photos. Check out a peek of my favorite photos from the session: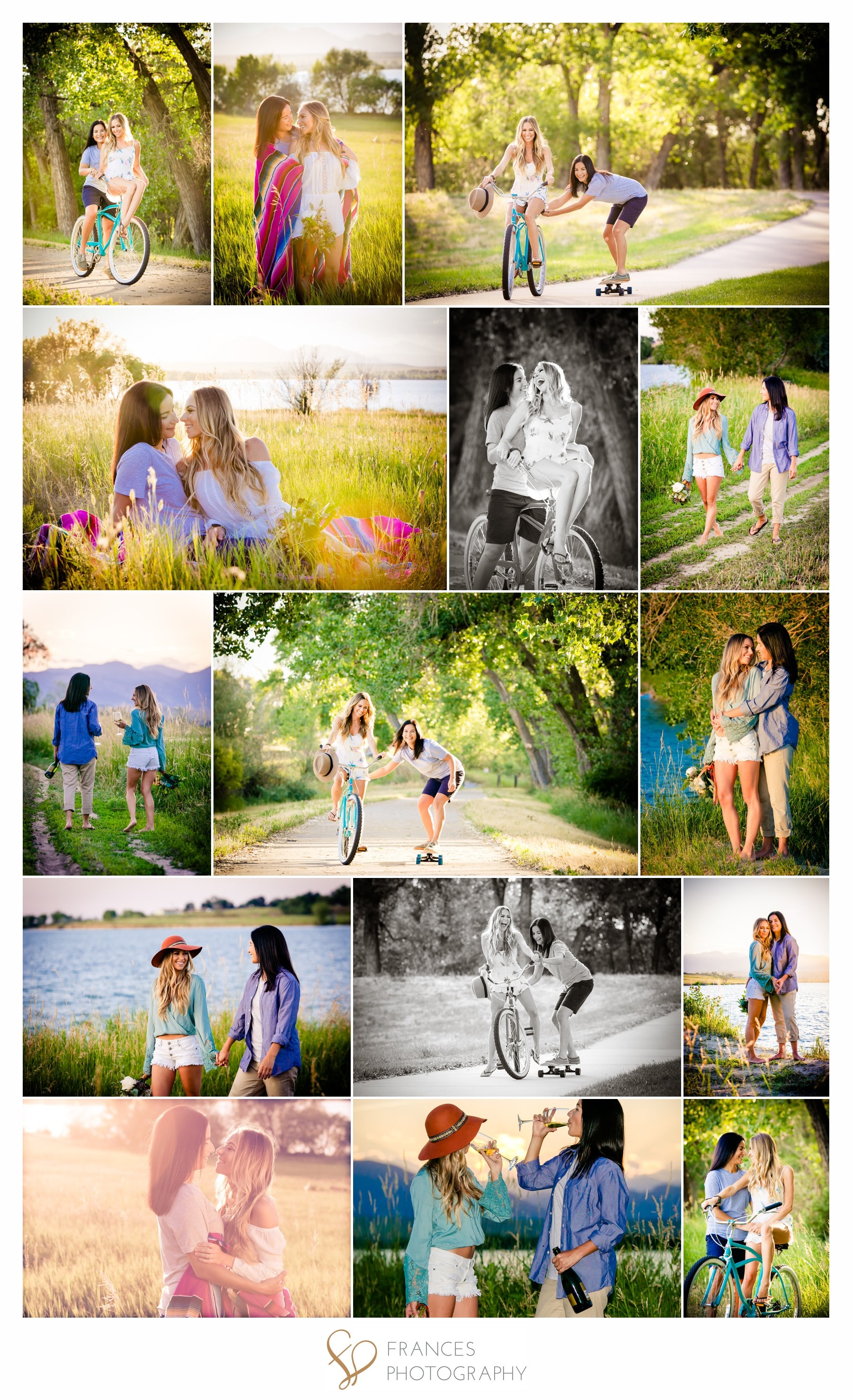 Location: Denver, Colorado.

Keywords: Frances Photography (15), LGBTQ wedding photography (6).

Copyright © Frances Photography 2023