Meet Frances Kelley
My Why
"Chasing Beauty with a Wild & Open Heart."
I grew up in Colorado, oldest of three girls – all thrill seeking, adventure loving, wild-hearted women. I snowboard, scuba dive, ride motorcycles, jump out of airplanes, globe-trot and dance like a boss. My trusted sidekick is a Doberman named Bodhi who is absolutely part of the family.
100% of my mind, soul, & love goes into every wedding, every job, every shot. I know of no other way to take photos. I know of no other way to live life. This is my promise to you.

My Style
Always evolving, my work has grown from classic, documentary, and artistic roots. I deliver images that are striking and gorgeous with a nod to the classics that stand the test of time.
But within the day, I hunt for opportunities to infuse my artistic license. I aim to deliver some unique images that are only for that couple.
Many say that I'm at my best when capturing the authentic emotion, natural connections, and unscripted moments of the wedding day. My photography is real and it's about telling stories.
Experience
I'm a full-time professional and photography is neither a side job nor hobby for me – it's who I am. It's what I love.
I've shot hundreds of weddings and have spent 15+ years honing my craft. And while I'm a technically trained photographer, the experience and the blood, sweat, and tears have been my greatest teachers.
Anything and everything can happen on your wedding day. Regardless, I will keep my composure and creatively pivot among all kinds of changing circumstances. Grace under pressure.
Don't believe me?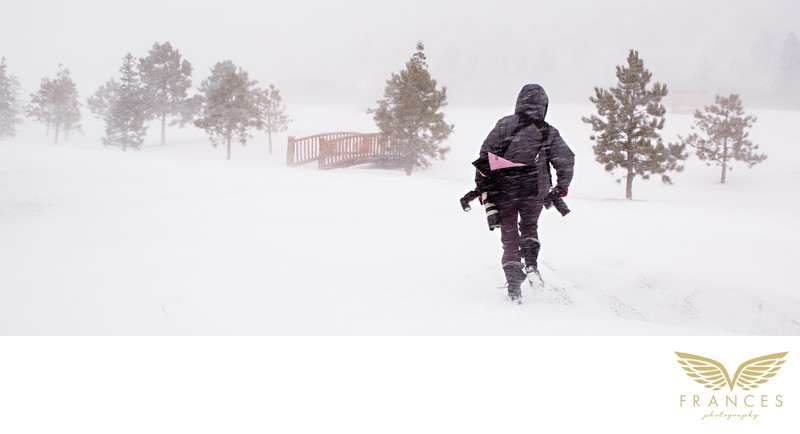 This is me. On a wedding day. During a spring Colorado blizzard – scouting to find a location that will make my bride look amazing (and stay warm).
I dive in to all projects with open eyes and a full heart and promise you my absolute best effort. I'm the most dedicated photographer you'll meet and will stop traffic, dangle off ladders, lay down in streets, and even work in blizzards to find the perfect angle for your epic photo. Whatever. It. Takes.
Don't worry – I've got you.
Celebrity Subjects
I've had the extreme honor of working with thousands of clients including celebrities such as Joe Rogan, 5-time Olympic gold medal winner Missy Franklin, US Olympic Halfpipe skier "Princess of the Pipe" Jess Cumming, NBA basketball player Chris "Birdman" Anderson, NFL Pro Bowl quarterback Jake Plummer, and Lacrosse legend Paul Rabil among others.
Mentioning celebrity photography is not about name dropping. It's proof that I can be trusted with your most important days and most valuable stories. It's proof that I deliver on what I promise.
Technical Skill
Setting me apart from many of today's photographers is the technical training I received from the prestigious Brooks Institute of Photography.
Prior to my formal photography education, I graduated with honors from University of Colorado Boulder in English Literature. I invest in continuing education each year to continually stretch my creative boundaries.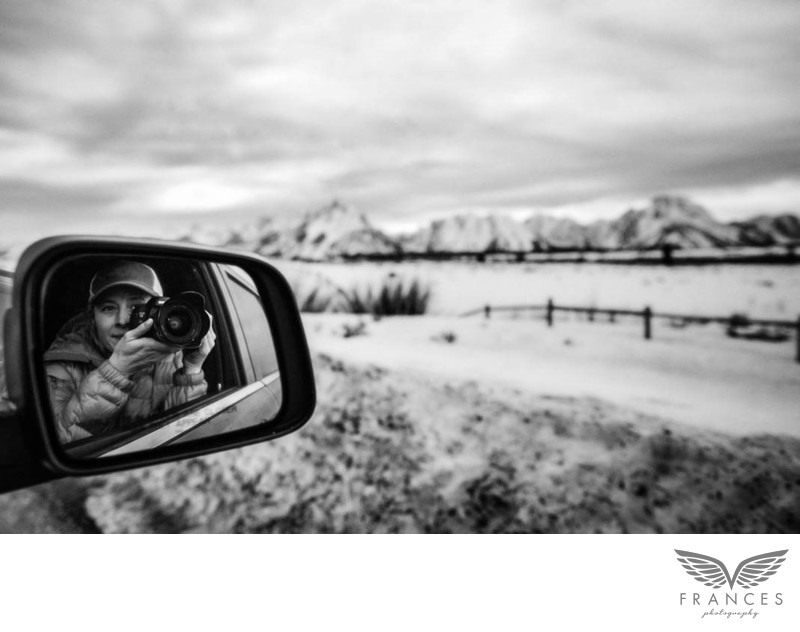 My Photographs
Photography gives both the technician and the artist inside of me a voice with which to create. In a world deadened by an avalanche of images and Instagram filters, I want your photographs to cut through the clutter and deliver future moments of nostalgia that invoke emotion and encourage reflection.
On one hand, I'm a purist at heart – a fanatic about focus and a champion of composition. On the other hand, I am an empath and the artistry of my imagery comes to fruition in being able to not only see, but to capture what people are feeling in the true story of the moment.
My ability to connect with other people's emotions is what truly sets my work apart. I'm incredibly thankful for being able to wake up every day and do what I love.
Giving Back
I am incredibly proud of the work I've done with the Women's Bean Project as well as a never forgotten day and evening I spent photographing my friend Kim – PLEASE ask me about this heart wrenching experience, but be prepared to cry.
Client Reviews
While I do love my job, it's really the people and relationships that keep me going. I work incredibly hard to ensure the collaboration with my clients is as fun as it is creative, breathless as it is bold, timeless as it boundless. If there is a perfect award for me, it's a compliment from a valued client! Please feel free to read through some of the independent reviews I have received: Google Reviews & - Facebook Reviews.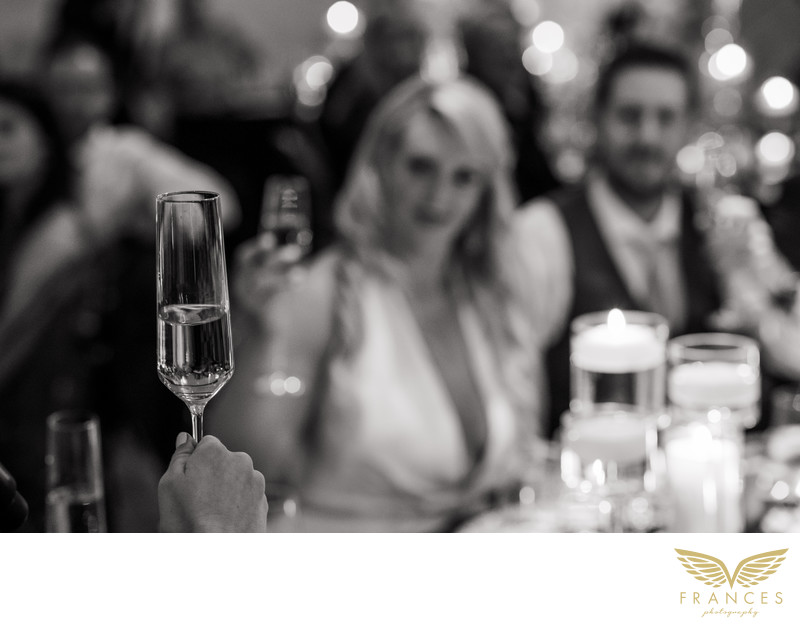 My Soul
Who is the girl behind the lens? To this day, I have not been able to express it better than Mary Anne Radmacher did in her powerful poem Living Eulogy …
---
"She danced. She sang. She took. She gave. She served. She loved. She created. She dissented. She enlivened. She saw. She grew. She sweated. She changed. She learned. She laughed. She shed her skin. She bled on the pages of her days. She walked through walls. She lived with intention."
---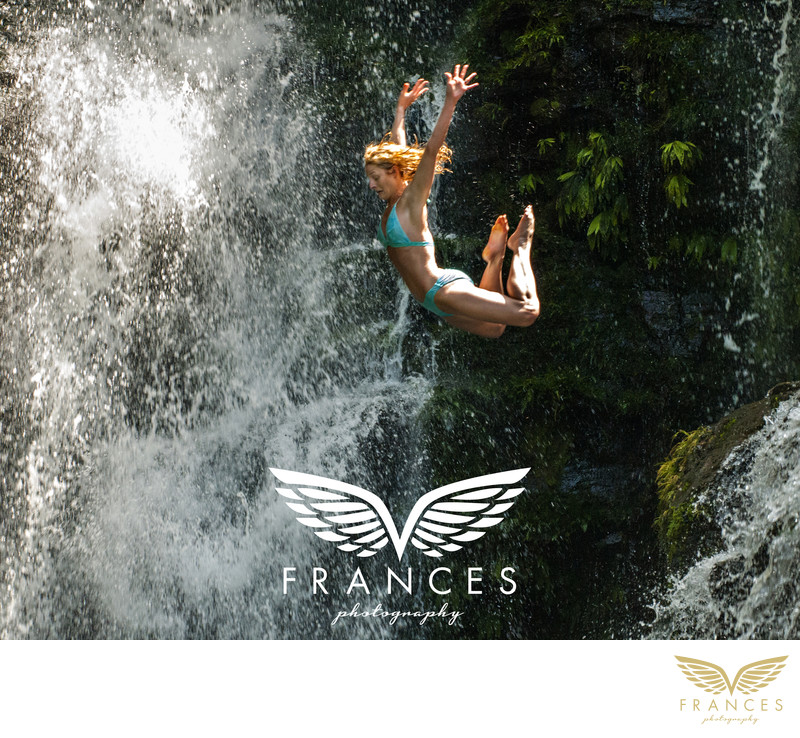 Published Work
My work has been published in Professional Photographer Magazine, Aisle Style, Luxe Mountain Weddings, Denver Life, as well as in multiple issues of the Knot, Brides CO, the Special Event, and Confetti Magazines.
Peerspace named me one of Denver's top engagement photographers in 2019 and I was acknowledged for my fine art photography and charity work in the "Good Works" section of Professional Photographer Magazine in the August 2008 issue.
Wedding blogs such as Borrowed and Blue, Carats and Cake, Couture Colorado and many more continue to cover my work each and every year and I couldn't be more grateful for their support.
I'm also a regular cover and feature fashion photographer for Reign Magazine.

---
Frances Photography – Colorado Wedding Photographer
Based in Denver, Colorado
---
Serving Denver, Boulder, Ft. Collins, Colorado Springs, Aspen, Beaver Creek, Copper Mountain, Steamboat, Winter Park and all other Colorado wedding venues.
Copyright © Frances Photography 2022